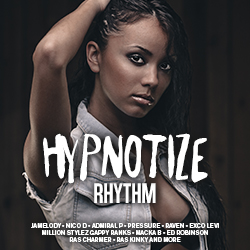 NORTH LAUDERDALE, FLORIDA – FEBRUARY 19, 2016: FM Records has released a new riddim album, "Hypnotize Rhythm ," an international pop-reggae experiment that escapes the boundaries of old-world reggae norms, migrating toward a colorful new platform of pop-production technologies and stream-compatible songwriting.
The album, produced by Kemar "Flava" McGregor was released Friday, February 19, 2016 for pre-order on iTunes. The official release date will be Friday, March 25, 2016 on iTunes, Amazon and Spotify.
On the surface, "Hypnotize Rhythm " is an international brew of singles performed by a cadre of touring reggae artists – hailing from Canada, Norway, United States, England and the Caribbean.
But beneath the surface, the album's sound-production techniques attempt to navigate the new media of reggae music – smart devices, streaming applications and social media fan-base outreach.
"I wanted to make the reggae track traditional, but at the same time, I wanted it to sound melodic," said McGregor. "I was listening to some Studio One tracks, and this bass line came to my head. But reggae is just drum and bass, which is easy – I needed a pop element on top. I started listening to a few pop tracks – Taylor Swift, Justin Bieber, and people like that. After listening, and getting a vibe of what's playing commercially on the radio, the Hypnotize Rhythm came to me."
FM Records' new rhythm album contains 14 romantic-reggae cuts and ganja-festival anthems, featuring a diverse mixture of singles from Macka B, Million Stylez, Exco Levi, Rayvon, Gappy Ranks, Pressure, Ed Robinson, Ameena, Ras Charmer, and more.
The centerpiece of the Hypnotize Riddim is an assemblage of pop tracks from Euro-Reggae stars Nico D and Admiral P, two of the most endeared artists from the newly-explosive Norwegian Reggae scene, and melodic radio cuts from Canadian songstress Chelsea Stewart and Caribbean vocal sensation Jahmelody.
In producing "Hypnotize Rhythm ," McGregor sought an extensible language of riddim and sound motifs, embedding space to motivate pop songwriting on a subconscious level, while maintaining a familiar creative interface for existing pop-reggae radio formats.
"I was thinking, 'pop music leaves room for a singer,'" said McGregor. "When you listen to Chelsea Stewart's track, when she sings a lyric, she can take her time and answer back. When you add that pop element to it, a songwriter who pays attention to the beat can stand out. These singers were thinking pop. When you say pop-reggae, people don't always understand what you're talking about. They think it's still reggae, but it's different. It's the same reggae, but it's pop."