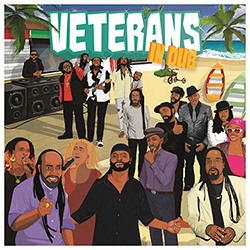 Music charts are a regular hangout for reggae producer Kemar "Flava" McGregor.
His pop-reggae formula has cracked the Billboard Hot 100, Billboard Reggae, iTunes R&B top 40 and iTunes Reggae top ten charts, has netted three Canadian JUNO Award nominations within two years, and has attracted millions of Spotify streams every month.
Today, McGregor is taking a gamble. He is escaping the ordinary path of the Jamaican/British/Canadian reggae scene that brought him into the mainstream, and is teasing audiences with a new endeavor – reinventing dubstyle reggae with a pop-radio production sound.
Surrounded by an all-star talent roster – which includes 2016 Grammy nominee Barrington Levy – McGregor's new release, "Veterans In Dub," takes a bold step toward bringing pop-dubstyle reggae to the forefront of the genre.
The LP becomes available May 20, 2016, and is currently available for preview on iTunes and Amazon.
The record features mellow, crystalline dub renditions of popular hits from an international assortment of reggae and dancehall legends, including pop celebrity Maxi Priest, lovers rock crooner Beres Hammond, legendary Bob Marley collaborator Marcia Griffiths and all-time reggae luminary Sugar Minott. The LP also features romantic, dance club melodies from UK lovers rock legend Janet Kay and dancehall sensation JC Lodge, among many others.
Levy's new dub song, a psychedelic version of his 1993 hit single, "Murderer," features Levy's sharp, streamlined vocal tone over a copious reggae bass groove. But there's a twist – a glasslike, serene production feel that evokes a Miles Davis-like state of cool. Together, both aspects combine to create a digital, device-friendly dub anthem suited to re-introduce Levy's hit to pop radio.
Not that mainstream radio is anything new for Barrington Levy, or his 1993 hit single. It was most famously interpolated by Levy, Snoop Dogg, Wyclef Jean and Shaggy on their collaborative 2010 hit, "Murderer," then retooled for another 2010 hit, "Watch Dem," featuring Snoop Dogg and MIMS, and was introduced yet again as "Murdera," on Levy's acoustic LP "Acousticalevy," contributing to Levy's 2016 Grammy Award-nomination for "Best Reggae Album."
"It's a melodic, catchy song, and it's a popular song – not just among reggae fans, but also among the hip-hop and pop genres, and all over the world," said McGregor. "When I did the dub version, I tried my best to maintain that melodic sound, and to keep it in the dub version where it still would be catchy."
While McGregor's version does not attempt hip-hop, it offers a unique pop-radio sound blend, amalgamating the colorist effects of Lee "Scratch" Perry's bass-and-drum dub moods with the candy-pop sweetness of Miley Cyrus or Justin Bieber. It's part of McGregor's overall push to elevate pop-reggae – optimizing its flavor, but without losing the spike in its punch.
"The concept of the record is that it's a rebellious vibe, with romance added to it, that's the whole idea behind it," said McGregor. "The mix is more of a pop-reggae mix. The record is brighter, it's not the traditional way of mixing a reggae record. I gave it a pop sound."
It is specifically this pop sound that granted McGregor his mainstream identity. In 2011, he produced Sinead O'Connor's reggae hit "How About I Be Me?," which propelled McGregor's LP, "Club Dance Riddim," to number nine on the iTunes Reggae chart, a rare accomplishment for riddim albums. In 2013, he produced Musiq Soulchild and Syleena Johnson's pop-reggae album, "9INE" – whose lead single, "Feel the Fire," peaked at number 23 on the iTunes R&B/Soul chart, and topped the Billboard Reggae chart that same year.
The new album features smooth, sexy dubstyle cuts from Grammy-nominated artists Maxi Priest, Beres Hammond and Freddie McGregor, along with a club track from chart-topping dancehall singer JC Lodge. The pop-reggae on "Veterans In Dub" is heavily characterized by romantic, melodious lovers rock, but with some songs pouring an ounce of aggressive lyrical passion.
"The songs that I actually chose for the romantic side are songs that create the feeling that you want to get intimate, that's the whole concept of those tracks," said McGregor. "When I was making that part of the record, I was thinking of a setting of candlelight and moonlight coming inside – that kind of setting. It's that jazzy, romantic-reggae love mood, that lovemaking vibe."
So, can pop-dubstyle enjoy the same success as pop-reggae and reggae fusion? Dub is already prevalent on reggae radio stations worldwide, and McGregor believes "Veteran's In Dub" can seduce a new audience of pop-music fans eager for a new experience.
"It's gonna be totally different," said McGregor. "It took me almost two years to make this record. It took a lot of time for me to research different sounds and styles of mixing, so the production concept alone took me two years. I know this record is going to be well received, especially among the die-hard, hardcore reggae fan base around the world, which was listening to reggae before I was born. Reggae deejays who play hardcore roots and smooth lovers rock are going to appreciate it. You will never find another record coming from Jamaica that sounds like this."